One of the main questions we get on our travels is, "Are you retired?". The answer is no. So naturally the next question is "How do you work on the boat?" With all the technology available, working on board is doable, it just takes some of the out of the box thinking.
Aboard Naut2Late, all of our communication is done via the internet. That includes phones, TV and boat navigation. When we first purchased the boat, we had looked into Starlink but the $2500 hardware cost had us looking for other options and ended up with two hot spots, one Verizon and the other T-Mobile. That worked for about 6 months but was not as reliable as I needed. So it was back to the drawing board.
I decided to investigate the Starlink system again and was pleasantly surprised to find the hardware cost had dropped to $600. The $135 fee included unlimited access without ever throttling us back. I ordered the Starlink system and it has literally changed the way I can do business on the boat. Not only does it provide consistent, reliable service for my computer, but buffering on the TV has all but ceased to exist. We permanently installed the dish on top of the boat.
The other major hurdle was the need for me to travel for my job.  We typically plan our stops to coincide with my travel schedule.  I need to be near a major airport when I need to fly.  While this does slow our progress it also allowed us to start the Loop several years earlier than waiting for retirement. Yes it adds another layer to my planning but ultimately it is worth it.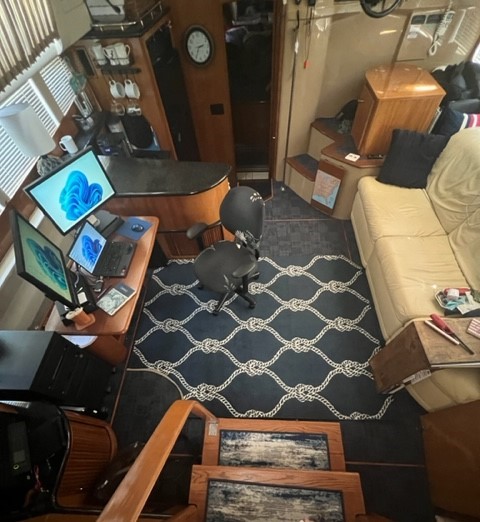 My actual workspace on the boat came together surprisingly easy.  I re-purposed our up/down coffee table into a desk.  Using it allows me to "put away" my office at night.  The area under the table is a perfect place for office supplies.  A small rolling drawer unit from IKEA provides a single file drawer and 3 storage drawers.  It fits perfectly between my "desk" and the TV Cabinet.  We removed the outdated components below the TV and created the perfect space for a small printer/scanner.