Jacksonville Zoo
December 4, 2022
The Jacksonville Zoo is touted as a must see in Jacksonville so we felt we needed to go and it was a good opportunity for me to play with my new camera. We arrived around 11:00 Sunday morning. The weather was perfect, overcast, cool but not cold with no wind.
Prepare for your visit by familiarizing yourself with the layout of the zoo. They do not have any printed maps and the directional signage is sporadic at best.  I would have liked to have printed one out before we got there.  We toured the zoo following the signs as best we could and I think we covered everything that was there.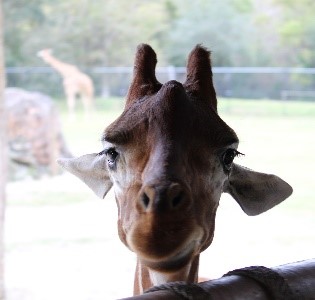 My favorite exhibit was the Giraffe Overlook. An elevated viewing platform allows you to get eye to eye with the giraffes. The zoo has one male, several females and 3 calves. All adorable, of course. This gal was particularly curious
Along with an assortment of lions, tigers and bears, the zoo also has an amazing collections of birds in all shapes and colors.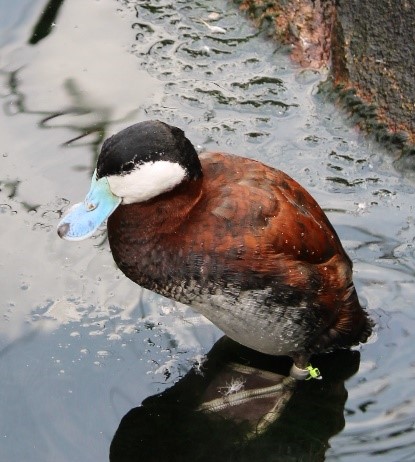 And only in Florida would you find tropical flowers still in bloom in December!

The Jacksonville Zoo houses the first-ever Manatee Critical Care Center in Northeast Florida that assists the Florida Fish and Wildlife Conservation commission the rescue and transport of injured marine mammals. The center provides temporary housing and care for injured manatees until they are healthy enough to be released back into the wild. Building a facility in Northeast Florida provided more immediate care for stressed and/or injured animals instead of having to transport them to Orlando, Tampa or Miami. The Center was funded with a $500k grant from the state of Florida and can hold 5-6 animals. When we were there, only two animals were in rehab. One had clearly been hit by a boat but was recovering nicely
Hours: Daily from 9am-5pm
              Zoo Lights – December Weekends 6-9PM
Admission
General Admission: $29.95 – $34.95
Full Experience: $34.95 – $39.95
Senior (65+): $27.95 – $32.95
Child: $24.95 – $29.95
Zoo Lights (All Ages): $25 (in advance) or $30 (day of)
Parking: Free
New protocol requires tickets be purchased online. If you purchase them before the day of your visit, you save $5. There is also a 10% military discount, but it isn't available online. The Full Experience ticket allows unlimited access to the train rides, wildlife carousel, 4D Theater and animal feedings.