Fish Camp on 11th
1699 11th
Port Royal, SC
June 5, 2023
We have been very lucky meeting some great people here in Beaufort as they pass through on their loop adventure. Two great friends, Bob and Ronda, will be leaving this week to head north to the Chesapeake area. We couldn't let them leave without a proper send off so we headed to the Fish Camp on 11th for a bon voyage dinner.
Fish Camp did not disappoint.  While you can make reservations, and we did, they are only good for indoor dining.  Outside dining is first come, first serve.  Luckily we got there early enough to get a great table on the screened in patio.  So the best of the outdoors and views without the bugs!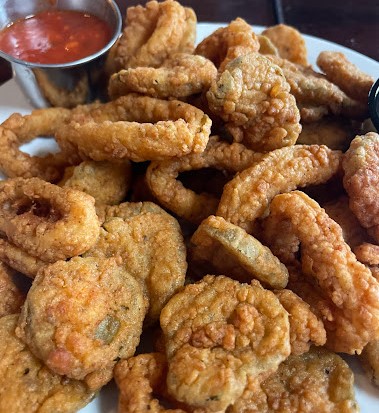 We dined on calamari and pickles (pictured), crab stuffed flounder, shrimp cocktail and fried shrimp, flounder and oysters. Everything was delicious and oh so fresh! Unfortunately, no room for dessert but the options looked amazing. Dinner and drinks for two was about $100 which we thought fair for the level of food and service we received. And did I mention the view???
Although we have rule when we dock in a new town to not repeat restaurants until we have run out of options, Fish Camp may be an exception to that rule. We definitely recommend Fish Camp on 11th It is especially great for Looper's since they have a dinghy dock and a dock for larger boats with 17'-19' depth at low tide.