Conch House Marina
March 2022 – March 2023
The Conch House Marina in St. Augustine, Florida, was opened in 1949 by Jimmy Ponce and has remained in the Ponce family for over 75 years. The Marina, once the Coast Guard gunnery station, is located on the beautiful Salt Run channel just off the ICW and has been designated as a Florida "Clean Marina". It offers 200 slips with 30, 50 & 100 Amp services and gas and diesel at some of the lowest prices we have found in the area. The slips are secured by locked gates, 24-hour security and video surveillance. The property also offers a full-service restaurant, 17 unit motel, swimming pool, ships store, laundry, shower, pump out and wi-fi.
You won't find a much better marina than Conch House in St. Augustine. We weathered Hurricanes Ian and XXX here and were impressed with the attention the staff gave to all of the boats. After the storm passed, the marina was quick to get both electricity and water restored to all the slips.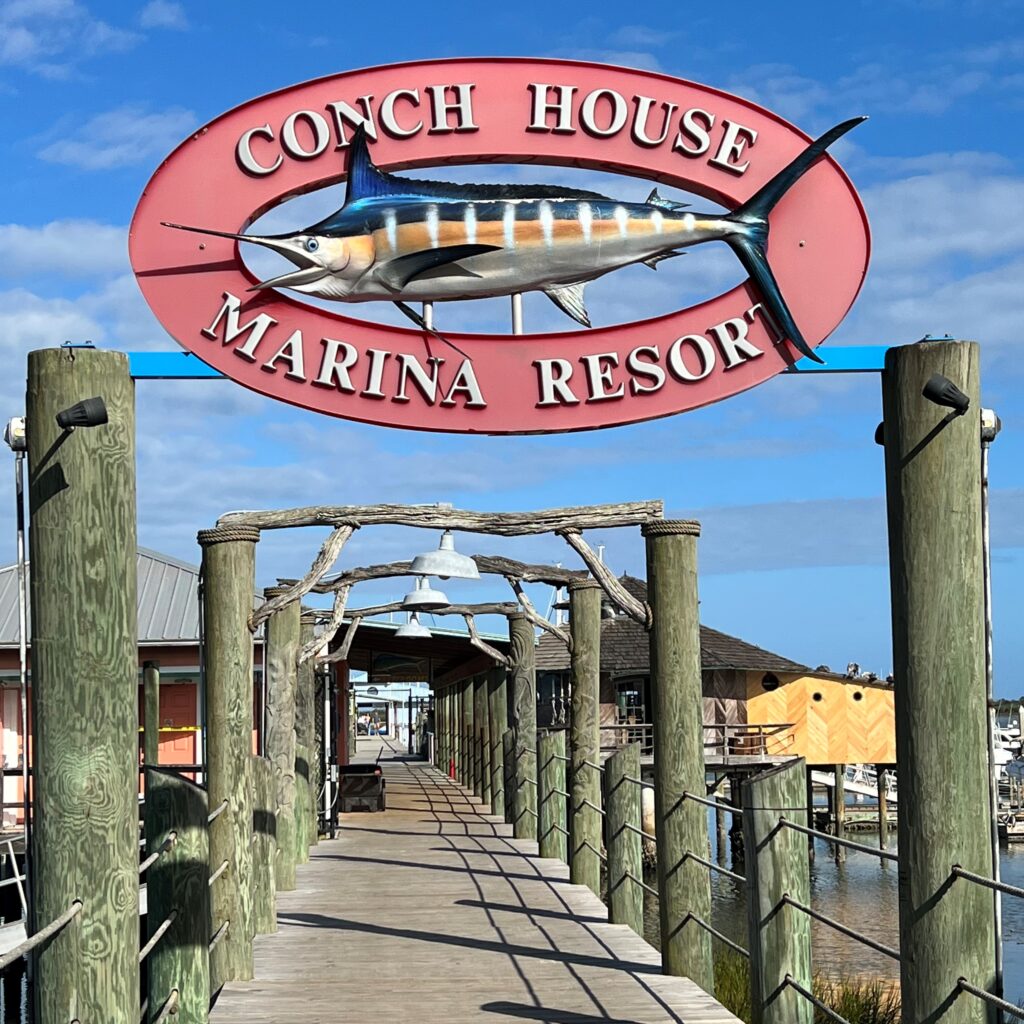 We have made Conch House marina our home for almost a year and have certainly been spoiled by the level of the facilities, the great service we have received from staff and the sense of security we have had throughout our stay. We also had an amazing view of the famous St Augustine Lighthouse.
With so much to do in St Augustine, you will surely want to stay and many of our friends and family visited during our time there. Having a motel on site made it easy and convenient to host visitors. The attention to restoring the motel to its 1950's style décor is amazing and even features original, working appliances in the kitchens. They especially enjoyed the pool and the close proximity to a great restaurant.
Of course I can't close out my comments on the Conch House marina without mentioning my favorite part…the Marine life. I spent many hours watching the dolphins swim in and out of the marina, the sea turtles feasting on the vegetation on the docks and the many marine birds feeding off small fish and crabs from the ropes on our boat.
Conch House Marina
57 Comares Ave (date)
St Augustine, FL 32080
904.824.4347
DOCKAGE (at the time of post)
Average Price per Day: $2.25.per foot (date)
Slips: 194
Transient: 40
VHF Channel: 16/69
Email: dockmaster@conch-house.com
Depth (Low Water): 8 feet
Tide: 5 feet
Current: Weak