And so it begins
February 2023
This year is going to be a wild ride if our plans work out.  Of course, this is boating so you just never know. Yes, 2023 is the year we finally are planning to start America's Great Loop – a 6,000 mile journey up the east coast, across the Great Lakes (possibly into Canada) and down the United States river system.  Our plans (right now) are to leave Conch House Marina at the end of March and move up the coast about 160 nautical miles to Beaufort SC to Lady's Island Marina.  Reservations have been made, so that's a big step for us!
 We have been dreaming and planning the Great Loop trip for as long as I can remember.  It's one of those things that people talk about doing but never do.  Honestly I thought we would be one of those couples several times. But then everything just started lining up.  As a project manager by profession, I had lists and lists and lists of things that needed to happen and an order in which those things needed to happen to make this dream a reality. I wasn't always confident that everything would fall in place….and then it did.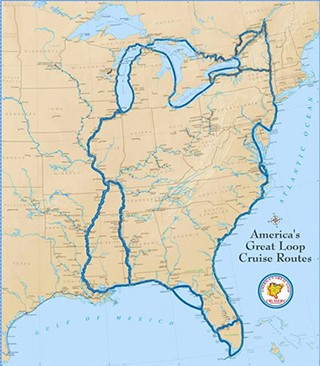 There's a lot to do to get ready for this trip. The boat needs to be in the best possible shape but we know there will always be boat projects. Our lifestyle needs to be organized into our new 600 square foot home. My work life needs to remain as uninterrupted as possible. Lots of logistics, tears and laughs as we try to put all this together.
So now we start the 30 day push to launch. We look forward to sharing this adventure. I'm sure it will be a combination of work and play, but never a dull moment.